USD
USD
AED
ALL
AZN
BAM
BGN
CAD
CHF
CZK
DKK
EUR
GBP
HKD
HUF
ILS
INR
ISK
JPY
KRW
KZT
MDL
MKD
PLN
QAR
RON
RSD
SAR
SEK
D-Lactate Free Powder 50 grams by Custom Probiotics
D-Lactate Free Powder 50 grams by Custom Probiotics
Product Code: CP-DLF-50G
Availability:Out of stock
Have a question?
High Count, multi strain probiotic powder with 250 billion cfus/gram.

People have been using this formula for autism, small bacteria overgrowth, and histamine issues.

Probiotics and Autism
Some children in the Autism spectrum have high D-Lactate in their system, that can cause some neurological issues.  Our D-Lactate free probiotic strains will be a safer formula.  The majority of Autistic children have gut flora imbalances and toxicities.  Since there is a gut-brain relationship, normalizing the gut flora have direct effect on their cognitive abilities, eye contact, behavior, stool and agitation.   For further information please review the Autism section on our web site.
Our D-Lactate Free probiotic powder will also benefit people with Histamine and SIBO issues..
Dosage Suggestions and Usage
Start with one adult scoop (0.8 gram, 200 billion cfus) of the probiotic powder first thing in the morning on an empty stomach (30 minutes prior to eating). Dissolve the powder in a glass of de-chlorinated water and drink it. Do this ONCE a day only. Stay at this dosage for about 3-5 days.
If you are not happy with the results, raise the dosage to two scoops a day, one in the morning and one at bedtime. After one week go to three scoops a day if you still are not getting the expected results. The highest dosage we recommend is four adult scoops a day. You can always lower the dosage or stop taking probiotics for a few days. You may aslo visit our Dosage Suggestions section to more info.
How long will a 50 gram or a 100 gram powder last me? 
50 grams is equivalent to 60 adult scoops. Each adult scoop measures 0.8 grams (equivalent to 200 billion cfus). If you take one adult scoop a day 50 grams will last 2 months while 100 grams will last 4 months. We also include a child scoop measuring 0.1 gram equivalent to 25 billion cfus. 8 baby scoops are equivalent to 1 adult scoop.
Ingredients
L. Rhamnosus
L. Salivarius
B. Lactis
B. Bifidum
B. Infantis
B. Longum
Our probiotic formulations do NOT contain dairy, sugar, gluten, soy, corn, casein, yeast, artificial colors, flavors, preservatives, FOS or any Genetically Modified or engineered ingredients.

ALLERGEN STATEMENT
Below is a table of all the allergens that are NOT present in any of our probiotic formulations.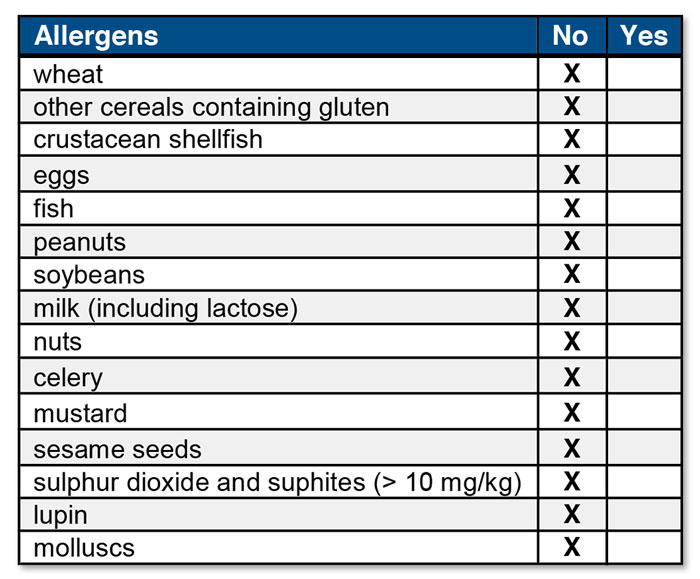 Storage and temperature stability: 

Our probiotic supplements are temperature stable for 2-3 weeks without refrigeration. We have done 2 year temperature stability testing on our probiotics . We overdesign our probiotics so that the loss will not effect the potency indicated on the label. One can travel with our probiotics for 2-3 weeks without refrigeration. It is best however to keep probiotics refrigerated for optimum potency. Below is our 2 year temperature stability study for your information.

Orders for products that are in stock are dispatched daily Monday – Friday.
Orders placed before 3pm (CET) Monday – Friday will be dispatched the same day.
Orders placed after 3pm (CET) Monday – Friday will be dispatched the next working day.
As such, orders placed after 3pm (CET) on Friday will be dispatched the following Monday.
Orders will not be dispatched on Bank Holidays (Netherlands) or Weekends.
Delivery
We have access to a variety of shipping options, provided by Deutsche Post, DPD and DHL Courier. You will select your delivery preference at the checkout when you place the order. We will endeavour to use your preferred delivery service wherever possible, while reserving the right to use an alternative courier of our choice as we deem necessary, this would always be a delivery upgrade, and never a downgrade.
As standard, we are only using delivery services that include tracking and insurance against damage/loss. This means if your parcel doesn't arrive, or is damaged on arrival, you are entitled to a refund/replacement. All you need to do is send us some pictures of the damage. If you prefer to use a cheaper delivery service without tracking and insurance we can provide this for you by request, but if the parcel doesn't arrive, or is damaged on arrival then you are not entitled to any refund/replacement/compensation.
Unless the delivery method you select contains the word 'Guaranteed', the delivery service is not guaranteed. For example – 'Next-Day Delivery with DPD Courier' is not guaranteed next-day delivery, and no compensation or refund is provided if the delivery guideline from the carrier is not met. If you select a guaranteed delivery service, and you do not receive the delivery within the delivery guideline after it has been dispatched, you are entitled to a full refund of the delivery cost.
The delivery guidelines for the services are below:
DHL Global Mail by Deutsche Post within Netherlands = 2-3 working days
DHL Global Mail by Deutsche Post within EU = 3-7 working days, depends on country
DPD Home Delivery within Netherlands = 1 working day
DPD Home Delivery within EU = 2-7 working days, depends on country.
DHL Express Courier within Netherlands = 1 working day, guaranteed.
DHL Express Courier within EU = 1-3 working days, depends on country.
We retain proof of postage at all times.
Shipping Issues, Delays, Lost Parcels etc.

At MandiMart we pride ourselves on our same-day dispatch and fast delivery. We are constantly on the lookout for ways to improve our delivery service and avoid delays for our customers.
It is your responsibility as the customer to ensure you have entered the correct shipping address. When you place an order, you will be sent a confirmation email confirming your order details. Your address and the product details are included in the order details; this is your opportunity to correct any possible mistakes with your order. If you become aware of errors with your order, please make us aware at the earliest possible time by sending an email to MandiMartLimited@gmail.com. We will endeavour to alter your order before it is dispatched. Unfortunately, if your order has already been packed and labelled at our warehouse, we cannot affect it in any way. We cannot be held responsible for any issues that arise due to the incorrect information you have provided.
While we try our absolute best to minimise any shipping errors, we are only human. In the event we have sent you the wrong product, we believe that we have caused enough inconvenience through our mistake, and as a result of this we will dispatch the correct product to you at the next available opportunity, irrespective of whether or not you have returned the incorrect product at that moment. However, we do ask that you return the incorrect product promptly, but at your leisure. Failure to return the incorrect products will incur an invoice and subsequently debt collection as required. 
If you have not received your order after the expected delivery guideline has passed, please contact your local post/delivery office, and quote your tracking number to them. In 90+% of cases a 'failed delivery attempt' has been made but the postman didn't leave a card to let you know this. If the parcel is indeed at the local delivery office you will be able to re-arrange delivery or collection of your parcel via an online portal on the carrier's website, or by contacting the local delivery office directly.
Unfortunately, we are not able to guarantee delivery or the time/date that our carrier will plan to make the delivery – this is out of our control. If you parcel is delayed or lost you can rest assured that we will do everything in our power to help you trace your lost parcel. This will include following up tracking numbers and contacting carriers for further clarification if the tracking information is not explicit. MandiMart cannot accept responsibility for delays or losses caused by carriers until the 'claims waiting time' has expired. Until this has happened the only message we will receive from carriers is to wait. After this time, we are more than happy to begin a complaint/claim against the carrier for the delay/loss of your parcel.
If you have entered a 'SafePlace' for your parcel to be left (i.e. when you are not present to accept the delivery) and the carrier states that they have left the parcel in the specified 'SafePlace', then MandiMart cannot be held responsible for any losses that you have experienced through using the 'SafePlace' service.
Returns
We understand that your supplement requirements are subject to change and, as such, you may occasionally need to return unused/no longer prescribed products. We offer a 'no contest' return policy if the product is in reasonable expiry date, in its original condition, unopened with the security seal still in place and the return is initiated within 90 days of the order being placed. If it has been longer than 90 days, send an email and we will decide this on a case-by-case basis.
We will process a refund once we have received the returned product, and inspected its condition. MandiMart accepts no responsibility for returns that are lost or damaged en route to our address. For this reason, we strongly recommend using a tracked/registered service and ensuring the products are adequately protected, as required.
MandiMart cannot accept opened, unsealed products for return in any situation other than a (possible) manufacturing defect. In this situation we require the product to be returned to us and then we will converse with our supplier/manufacturer as to whether a manufacturing defect is present in the product. This could include returning the product to our supplier/manufacturer. If a manufacturing defect is present then you will be issued a new product replacement or a refund, whichever you should prefer. Please note that the return shipping is to be paid by customer and only on discovery of a manufacturing defect will this be refunded. If there is no manufacturing defect present you will not be refunded nor will a replacement be sent to you.
While we continually strive for perfection, we are only human and mistakes will happen from time to time. If we have mistakenly sent you the wrong product, we are more than happy to cover the cost of returning this wrong product to us. We believe that you have been inconvenienced enough through no fault of your own, and as such should not have to pay for the return, or wait until the initial product is returned before the correct product is dispatched. We will immediately dispatch the correct product for you, with no regard to whether we have received your product return. However, in the instance that you have ordered the wrong product or no longer require the product you have ordered, we would expect you to fund the return yourself.
These conditions do not affect your statutory rights.